Large Geodesic Sphere
Hi there, I'm Peter Edmunds, founder here at Plastimake and your personal guide to the fun world of hand mouldable plastic.
Today's Plastimake example is a project I made for an exhibition back in 2011. It's a 1-metre-wide sphere made out of 80 Plastimake triangles, all held together with magnets! It sits on top of a modified overhead projector that can project video onto the inside of the sphere.
This was a really fun and challenging project, here's how I made it.
The Sphere
The shape of the sphere is called a Geodesic. It's made up of 80 individual triangles of two different sizes. I made two triangular moulds out of aluminium sheet (pictured below), one for each shape of triangle.
To create each triangle I heated a consistent amount of Plastimake in hot water, then pushed it into the mould with my hands. Some air bubbles formed underneath, but that's ok, they look a lot like lunar craters.
In the corner of each triangle is a super-strong, 1cm-sphere neodymium magnet. At each intersection where the points of 5 triangles meet, these magnets rotate to form a loop, forming a strong connection. I added a little bit of Vaseline to each magnet to make sure it could rotate freely and its poles could line up with the adjacent magnet.
After a late night making all 80 triangles it was time to put them all together. The magnets made it easy, each piece snapped nicely into place. However, the weight of the entire sphere was a bit too much for the magnets to handle, causing some catastrophic collapses. I added a small loop of Plastimake at each intersection to give it some extra strength. The Sphere can still be broken into two hemispheres for access and transport.
The Base
I started with an old overhead projector that I picked up at the local recycling centre. Unsurprisingly, overhead projectors are pretty cheap these days!
This project needed to be able to run continuously throughout a week long exhibition - the 200W incandescent bulb in the overhead projector wasn't up to the task. Instead I installed a 100W LED mounted onto a computer heat sink. It's intensely bright.
I wanted to be able to control the colour of the sphere and to be able to project video onto the interior of the Plastimake triangles. The easiest way to achieve this was by installing an LCD panel from an old 17" flatscreen monitor. It's a well documented process and was perfect for this project. A laptop sits in a box underneath the sphere providing a video feed through a VGA connection.
An array of mirrors hang above the projector, reflecting the colourful projected light out onto the surface of the sphere. Plastimake is slightly translucent, combined with the cratered surface of the triangles it creates some neat effects.
I was really happy with how it all turned out. It remains the largest Plastimake project I've ever worked on, for now…
More Plastimake projects:
What is Plastimake?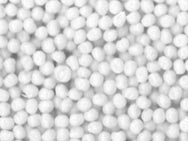 Instructions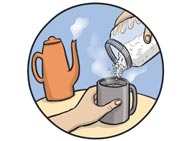 Purchase